Neeta Boochra
Neeta Boochra is a Designer, Social Entrepreneur for Women Empowerment,
Motivational Speaker and Celebrity Columnist.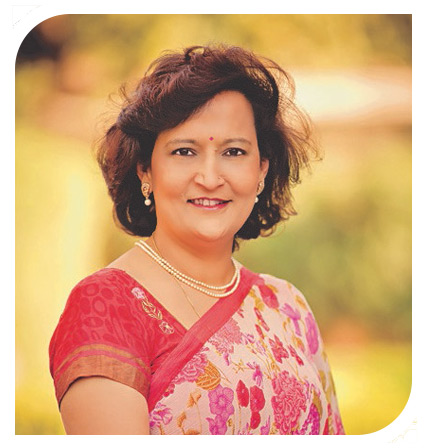 Passion for Jewellery and desire for doing something creative and encouraged and promoted by father-in-law Shri Lalit Kumar Boochra she forayed into Jewellery business that is luxurious but is different from the well-trod path followed by the rest of the family. Young and Enterprising Women are an integral part of her Manufacturing, Designing, Product Development and Marketing Team.
"Neeta Boochra Jewellery" is the brand built on the pillars of impeccable quality, finest workmanship and tremendous value for money. It is a tradition built over a long experience of three generations with the extensive knowledge of precious materials and gemstones.
She is the Chairperson of Silver Centrre and is the driving force behind the grand legacy. She has redefined handcrafted Jewellery with its exquisite designs and impeccable craftsmanship. Her clientele includes the big Corporate houses, Celebrities as well as Bollywood stars. She is regularly exhibiting in all National Exhibitions and also takes pride in her jewellery being displayed at the National Museum in New Delhi and the Salar Jung Museum in Hyderabad.
Brand Story
"Neeta Boochra Jewellery" a luxury brand from the House of Silver Centrre is the ultimate source for high quality, hand finished, modern and contemporary designed Sterling Silver Jewellery at affordable prices!
In the late 1890 the Indian Jewellery sector was in a nascent stage my grandfather in law Seth Kastoor Chand Boochra was the visionary and pioneer in organizing it. Popularly known as the "Silver King of India" he controlled the price of Silver in the country.
He was the co-founder of The Bullion Association Limited and was unanimously elected as the President of the Association and continued as its President till his demise.
The legacy was carried on by my father in law Shri Lalit Kumar Boochra who was the founder Chairperson of Silver Centrre, known for exquisite handcrafted Jewellery. Silver Centrre has been spreading its magic for over 100 years is a trusted and renowned jewelry name offering a wide range of jewelry and silverware. Behind the glitz, glam and all the glitter is the expertise of three generations and with a legacy of great craftsmanship Neeta Boochra stands apart, creating golden relationships with its esteemed customers, delivering exactly what they are looking for with exquisite designs and purity.